Live Tuition Open Week
7 Days FREE Access to Pandai Live Tuition for all Pandai Subscribers
World Cultural Discovery
Explore world's diverse culture with fun activities with us! Don't miss it!
Program
Date & Day
Time
Description
Wonders of Turkey
5 September 2022
10:00AM - 12:00PM
In this program, it will highlight Turkiye's culture in terms of their traditional clothes and games. For traditional games, it will focus on the uniqueness of the games played by the children.
For traditional clothes, we will look on how the culture of wearing 'serban' and scarf among their people. Let's join our program to adventure the beauty of Turkiye's culture.
Namaste India!
5 September 2022
2:00PM - 4:00PM
Indian Culture will be presented in regards to its demography, geography, national symbols, attire, food and language with a focus on basic conversational Tamil Learning at the end.
This is TIME to discover the amazing Indian's culture. Getting exposed with this culture could empower your knowledge deeper. Get ready to explore more fun activities with me, Sir Jon!
Aloha peeps! It's Hawaii
6 September 2022
10:00AM - 12:00PM
Let's explore the beauty of Hawaii through Hawaiian popular phrases and fun facts about Hawaii! In addition, students will learn how to make their own popular Hula skirt, flower necklace, crown and bracelet worn by Hawaiian in this program.
Sarawak Bumi Kenyalang, Di Sini Hati Terpaut
6 September 2022
2:00PM - 4:30PM
Sarawak is a popular state that rich in their culture because of history and different ethnicity that live together harmoniously.
In this special program, it will highlight the beauty of Dayak ethnic whereby the students will learn about their language, dance, musical instruments, food, 'Hari Gawai' festival and also traditional clothes worn by Dayak's people. Not only that, there will also has a special slot for hands on activity to make 'lanjang/ ketapu', the traditional accessories worn on the head.
China, Huan Ying!
7 September 2022
10:00AM - 12:00PM
Various traditionally Chinese festivals are celebrated all year round. In this program, we will deeper discuss in how traditionally Chinese festival is celebrated and the legend of the festival. We have also included the demonstration of steps for making Tangyuan (Traditional Chinese dessert). let's join this program to have fun during your school holiday!
Terra Do Brazil!
7 September 2022
2:00PM - 4:30PM
Being one of the largest country in South America, Brazil is well-known for the exquisite nature and forest.
In this program, we will take a look on Brazil in terms of the geography, demography and culture especially on self-defense known as Capoiera dan Ju-Jitsu Students also will be exposed on how to make their own mask for special event in Brazil called The Carnival of Brazil.
Ahlan wa Sahlan, Emirates!
8 September 2022
10:00AM - 12:00PM
This session is to introduce the Emirates to our students. Every Arab country is unique and has its own culture, apart from the collective Arabic culture itself. From its food, to clothes and even language. Did you know that there are many words used in the Arabic language that are different from one country to another?
Let's look at Emirati food, traditional outfits, culture and desert life. Although we might know about the modern day Dubai, which is only 1 Emirates out of the 7, let's get to know this country better.
Penyu vs Kijang
8 September 2022
2:00PM - 4:30PM
Kelantan and Terengganu are located at East Coast of Malaysia. Both countries are well-known for their culture, history and varieties of delicious food.
This time around, we will take a deeper look on their history and also art which is 'Wayang Kulit' and 'Ulek Mayang'. Not to forget, we will discover the popular places in both states. For the special slot, students will also learn Terengganu and Kelantan 'dialek' which is the spoken languages in both states.
Spain: The Lands of Art
9 September 2022
10:00AM - 12:00PM
Let's figure out the uniqueness and beauty of Spain by learning their language which is the basics of Spanish, including pronunciation, common words, and phrases with this basic Spanish language course.
will start by learning the alphabet and progress to more advanced topics like numbers and counting. Besides learning the Spanish language, we will also learn common Spanish dance steps and preparing simple Spanish popular food.
Bonjour, France!
9 September 2022
2:00PM - 4:30PM
Let's travel to France!
Discover France's history, its culture including popular food, arts, do's and don'ts in France. Students will also learn basic French language for greetings that they can practice in their daily communication.
Don't forget that France is so popular for their bread and patisserie. Thus for the special treats, students will also learn on how to make breads and style their breads creatively.
Questions & Answers
Pandai Daily Funtivities: World Cultural Discovery.
Pandai Daily Funtivities is a virtual program. All registered students can join this event. There will be puzzles, challenges and badges to collect. This Pandai Daily Funtivities theme is "World Cultural Discovery". Get ready to explore world diverse culture with fun activities. Don't worry, we emphasize on the "fun" – no school books are involved!
Anybody! All Malaysian school students are invited – just be sure you have a registered Pandai student account. Want to amplify the fun? Be sure to share this event and invite your friends to join you!
Yes! Pandai Daily Funtivities is avaliable for all users including Basic user. Make sure you have a Pandai student registered account to join this program.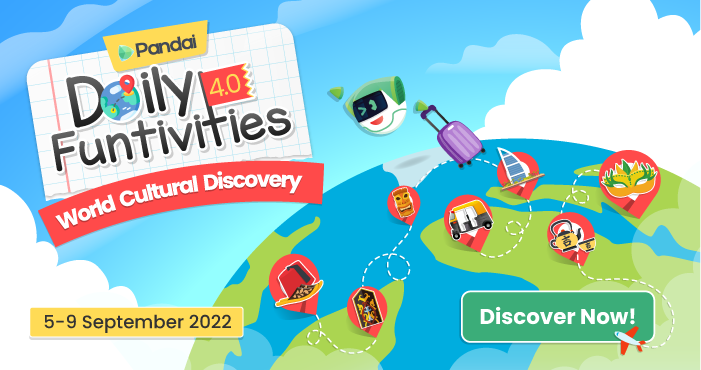 Pro & Experienced Tutors
Professionally trained to conduct interactive and fun learning experience.
Flexible learning
Can't catch the Tuition LIVE? Worry not, we have playback videos and it's just a click away, anywhere around the world.
Customized Online learning
Highly engaged tutors that constantly interact with students and prioritise what is preferred to be discussed
Structured learning
Tutors have strong understanding in school syllabus and provide the best techniques in answering exam questions.
Private and Safe Classroom
Learning with Pandai never been safer with our own private and controlled servers in Pandai Classroom.
Rewards for everyone
Get rewarded from time to time by answering the questions asked in the Live Tuition.
Pendulum Grade Leap
Allows students to take on 4 grades at a time! No more hassles finding past semester revision material because now you can join live classes in previous & future grades.
School Holiday Programs
No interesting plans during school holidays? We have one that will not only provide you extra life knowledge but also life skills classes in Pandai Daily Funtivities.
Our Tutors!
Say "Hello" to the experience tutor that will help you on your journey!
Feedback and Response from
students & Parents!
Here are some reviews from our users and their parents
I love Pandai Live Tuition because the teacher is committed and they really know how to capture students attention. – They are friendly and explain the subject in a every detail manner.
Pandai Live Tuition is a good initiative and a good compliment to the existing Pandai's feature. My children absolutely love it and it definitely an added value to the premium users. I hope Pandai will keep this offering.
The class is really awesome. I can't wait for the next one!
Class schedule for Pandai Live Tuition
Time: 8.00 pm - 9.30 PM
| Subject | level | Day | Time |
| --- | --- | --- | --- |
| English | Year 1 | Tuesday | 8:00 PM to 9:30 PM |
| Bahasa Melayu | Year 1 | Thursday | 8:00 PM to 9:30 PM |
| Science | Year 1 | Sunday | 8:00 PM to 9:30 PM |
| Mathematics | Year 1 | Wednesday | 8:00 PM to 9:30 PM |
| English | Year 2 | Thursday | 8:00 PM to 9:30 PM |
| Bahasa Melayu | Year 2 | Tuesday | 8:00 PM to 9:30 PM |
| Science | Year 2 | Friday | 8:00 PM to 9:30 PM |
| Mathematics | Year 2 | Monday | 8:00 PM to 9:30 PM |
| English | Year 3 | Wednesday | 8:00 PM to 9:30 PM |
| Bahasa Melayu | Year 3 | Friday | 8:00 PM to 9:30 PM |
| Science | Year 3 | Thursday | 8:00 PM to 9:30 PM |
| Mathematics | Year 3 | Tuesday | 8:00 PM to 9:30 PM |
| English | Year 4 | Tuesday | 8:00 PM to 9:30 PM |
| History | Year 4 | Friday | 8:00 PM to 9:30 PM |
| Bahasa Melayu | Year 4 | Wednesday | 8:00 PM to 9:30 PM |
| Science | Year 4 | Monday | 8:00 PM to 9:30 PM |
| Mathematics | Year 4 | Thursday | 8:00 PM to 9:30 PM |
| English | Year 5 | Friday | 8:00 PM to 9:30 PM |
| History | Year 5 | Tuesday | 8:00 PM to 9:30 PM |
| Bahasa Melayu | Year 5 | Monday | 8:00 PM to 9:30 PM |
| Science | Year 5 | Thursday | 8:00 PM to 9:30 PM |
| Mathematics | Year 5 | Wednesday | 8:00 PM to 9:30 PM |
| English | Year 6 | Monday | 8:00 PM to 9:30 PM |
| History | Year 6 | Thursday | 8:00 PM to 9:30 PM |
| Bahasa Melayu | Year 6 | Friday | 8:00 PM to 9:30 PM |
| Science | Year 6 | Wednesday | 8:00 PM to 9:30 PM |
| Mathematics | Year 6 | Tuesday | 8:00 PM to 9:30 PM |
| English | Form 1 | Friday | 8:00 PM to 9:30 PM |
| Bahasa Melayu | Form 1 | Monday | 8:00 PM to 9:30 PM |
| History | Form 1 | Tuesday | 8:00 PM to 9:30 PM |
| Science | Form 1 | Thursday | 8:00 PM to 9:30 PM |
| Mathematics | Form 1 | Wednesday | 8:00 PM to 9:30 PM |
| English | Form 2 | Monday | 8:00 PM to 9:30 PM |
| History | Form 2 | Thursday | 8:00 PM to 9:30 PM |
| Bahasa Melayu | Form 2 | Tuesday | 8:00 PM to 9:30 PM |
| Science | Form 2 | Wednesday | 8:00 PM to 9:30 PM |
| Mathematics | Form 2 | Friday | 8:00 PM to 9:30 PM |
| English | Form 3 | Wednesday | 8:00 PM to 9:30 PM |
| History | Form 3 | Friday | 8:00 PM to 9:30 PM |
| Bahasa Melayu | Form 3 | Thursday | 8:00 PM to 9:30 PM |
| Science | Form 3 | Monday | 8:00 PM to 9:30 PM |
| Mathematics | Form 3 | Tuesday | 8:00 PM to 9:30 PM |
| Biology | Form 4 | Monday | 8:00 PM to 9:30 PM |
| History | Form 4 | Tuesday | 8:00 PM to 9:30 PM |
| Mathematics | Form 4 | Tuesday | 8:00 PM to 9:30 PM |
| Physics | Form 4 | Wednesday | 8:00 PM to 9:30 PM |
| Bahasa Melayu | Form 4 | Sunday | 8:00 PM to 9:30 PM |
| Chemistry | Form 4 | Friday | 8:00 PM to 9:30 PM |
| Add Math | Form 4 | Saturday | 8:00 PM to 9:30 PM |
| English | Form 4 | Thursday | 8:00 PM to 9:30 PM |
| Science | Form 4 | Monday | 8:00 PM to 9:30 PM |
| English | Form 5 | Monday | 8:00 PM to 9:30 PM |
| Bahasa Melayu | Form 5 | Tuesday | 8:00 PM to 9:30 PM |
| Chemistry | Form 5 | Wednesday | 8:00 PM to 9:30 PM |
| History | Form 5 | Wednesday | 8:00 PM to 9:30 PM |
| Add Math | Form 5 | Thursday | 8:00 PM to 9:30 PM |
| Chemistry | Form 5 | Wednesday | 8:00 PM to 9:30 PM |
| Biology | Form 5 | Friday | 8:00 PM to 9:30 PM |
| Physics | Form 5 | Sunday | 8:00 PM to 9:30 PM |
| Mathematics | Form 5 | Saturday | 8:00 PM to 9:30 PM |
| Science | Form 5 | Friday | 8:00 PM to 9:30 PM |